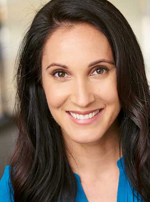 Sabrina Campbell grew up in a large family in Toronto, Canada. With relatives all over the world, she was bit by the travel bug at a very young age. Experiencing, firsthand, the diverse cultures of Korea, France, Israel, Mauritius, and England planted the seeds for a lifelong love of international travel that has led her to India, Peru, The Maldives, The Azores, and many other exotic locales.
Sabrina's thirst for new adventure has provided her the opportunity to see the world from a different perspective, created a desire to help others and an appreciation of diversity. She brings her international experience and unique charm to each of her ventures.
Sabrina has been a successful entrepreneur in the Wellness space, where she has worked as a Health and Wellness Coach, as well as run a team of Holistic Nutritionists, Yoga Teachers, Sports Therapists, and Trainers. She has also worked with numerous Fortune 500 companies (Tata Motors/Jaguar-Land Rover) in elevating their brands through her unique blend of promotional work and experiential marketing. With strong sales and marketing acumen, catering specifically to luxury clientele, Sabrina is adept at building meaningful relationships and loves helping her clients achieve their goals.
This foundation of providing value to others, combined with a history of rehabbing and flipping residential properties, was a natural transition for Sabrina to become a full time Real Estate Agent. Her online experience allows her to have a unique and thorough understanding of digital marketing and social media which serve her clients well. Working with start-ups and Luxury Clients in the Corporate World has evolved into Sabrina supporting the real estate needs of everyone from first time home buyers to sophisticated investors throughout Los Angeles. She is committed to elevating her success in the real estate field by providing exceptional value to her clients.
Sabrina works closely within her yoga community to support local neighborhoods and is passionate about her involvement with Modo Yoga and Youth Yoga. She also continues to dedicate her time and energies towards Habitat for Humanity and The Children's Hunger Fund.