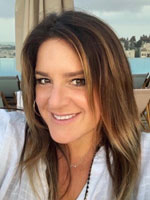 Michele Shuman is a licensed realtor at Keller Williams Beverly Hills (KWBH) and a member of the prestigious MS Property Partners (MSPP) team. MSPP has been #1 in residential home sales at KWBH for the past seven years in a row.
Growing up in West Los Angeles with her family deeply entrenched in the real estate business, Michele not only has a vast understanding of the city and its' many different/developing areas, but also she has a unique perspective on the landscape of the LA real estate market its many cycles. As LA native and someone who's passionate about emerging trends, design and helping people, Michele's skillset is ideal in connecting her clients in buying /selling residential homes, leasing and procuring smart investment properties.
After almost twenty years in entertainment, luxury lifestyle marketing + PR and community relations, Michele segued into new opportunities in real estate in early 2016. Using her innate ability for networking and her love of making things happen, Michele tackles real estate just as she does everything else – with honesty, initiative, creativity, loyalty and a sense of humor. Always known for providing her clients with exceptional service, open communication and strong deal negotiation skills, she has quickly been able to leverage her many different relationships/resources for her real estate clients as well.
Having been in marketing / PR for many years, when you choose Michele as your real estate agent, you get an added bonus. Michele is adept at all facets of property marketing, from content creation to website development and photography to social media and email marketing, plus she has access to extensive lists of realtors, developers, international buyers, Los Angeles homeowners and high net worth clientele. She is detail oriented, creative and loves staging and home improvement as well.