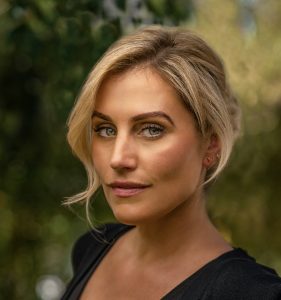 Alexandra Flynn, an East Coast native and longtime Angeleno, brings her bi-coastal style, local neighborhood knowledge, and communication savvy to clients looking for unparalleled commitment and support-whether they are searching for a new home or bidding farewell to their current residence.
Alexandra is a veteran of style and sophistication, and brings her immaculate taste to clients looking for the best in this competitive market. From her childhood endeavors as a model and skier in the Swiss Alps, to her university studies in Italy, and her summers in Newport, RI, Alexandra thrives at curating a global style that she brings home to Los Angeles.
Immediately after earning her degree in Marketing and Communications from Emerson College, Alexandra began her West Coast career in publicity and event planning. While managing appearances for celebrity clients, she also spearheaded an annual gala for a major charitable organization, helping to raise millions each year for scientific research. Looking to extend the scope of her skills, Alexandra shifted her focus to print media and brought her marketing skills and attention to detail to a boutique advertising house where she shaped creative campaigns for both film and television. In this realm, Alexandra's remarkable negotiating skills wowed clients and garnered rave reviews. After taking a short career break to spend time with her young children, Alexandra is now uniquely positioned to combine her sophisticated style and business savvy to help Los Angeles families find their perfect homes.
"My clients' needs and wants are so varied," Alexandra notes. "But while their stories differ, my focus and commitment to finding each of them the perfect property is always the same. Real estate is a business, but for me it is about relationships. I work diligently, with transparency and integrity, to deliver on my promise of success."